OK, you have already heard about the microdermabrasion effect on the skin – it provides a deep exfoliating effect, stimulating the epidermis to foster new cell growth, which will give you a fresher and smoother complexion and so on.
But does it really provide the above-mentioned effect or is it just another scam?
Well, we want to give you precise information regarding the results you can expect and therefore summarized both the positive and negative customer feedbacks we could find Online. And, no, microdermabrasion is not a magic wand – such treatment will not eliminate your acne scars at 100% nor will make you 15 years younger, So, if you'd like to set some realistic expectations, just read on.
What does the microdermabrasion treat?
Fine lines or wrinkles, age spots, sun damage, uneven pigmentation, clogged pores, skin texture problems, such as stretch marks or minor scars – these are the skin conditions that (according to manufacturers and salesmen) can be successfully treated after a couple of microdermabrasion procedures.
But let's not forget that some of these conditions (eg. deep wrinkles and stretch marks) cannot be completely removed, so we run across lie N1.
Here's the thing – each of the problems mentioned above can be dramatically improved if your skin predisposes to an improvement – our skin characteristics are a dominant factor in the healing process. This includes age, elasticity, capacity for regeneration, water absorption, personal care etc.
After taking into account each of these characteristics, we can estimate the effect of microdermabrasion treatment we may expect. We will now investigate the results customers shared and we hope this will help you decide for yourself whether or not to perform the procedure:
Fine lines
These are the first signs of skin aging are the appearance of fine lines around the eyes and the mouth, a slight sagging of the skin, the appearance of dark spots that disturb the fresh facial appearance; the excessive sun exposure, as well as environmental and stress factors, are of huge importance for speeding up this process
Wrinkles
These formations usually appear where the skin is most exposed to the sun (eg.the face and neck, the back of the hands, and the arms). Other factors leading to the development of wrinkles include smoking, dehydration, certain medications, and environmental and genetic factors
Age Spots
These are brownish skin hyper pigments that can affect all parts of the body, mainly the face and arms, in people over 40 years of age; this type of spots develop over the years and need long treatment before they begin to fade; however, with patience and constant care, they can be removed completely. The main reason for the appearance of age spots is the excessive sun exposure over the years; sometimes, the appearance of these spots may also be due to the lack of certain nutrients
Sun damage
The harmful effects of sunlight are expressed by the premature aging of the skin, the appearance of skin cancer, sunburns, and other injuries. Repeated sun exposure is the main cause of premature aging of the skin. The degree of sun damage to the skin depends on its color and the duration and frequency of exposure to the sun
Uneven pigmentation
Uneven skin pigmentation due to exposure to sunlight is a condition in which sun-exposed skin is not pigmented evenly, but patches of varying size and color are observed. This skin condition may be due to age-related skin changes, hormonal imbalance, Hutchinson Gilford syndrome, poor nutrition, melanoma, vitamin B12 deficiency, post-infectious hyperpigmentations, and others
Clogged Pores
In our bodies, the pores help the skin stay clean by eliminating all the elements that pollute it, including dead skin cells. The sebaceous glands under the skin surface emit sebum, which most commonly sticks to these dead skin cells. The dead skin cells are then removed from the body through the pores. This keeps the skin healthy and shiny. However, sometimes (due to contamination or some other things like makeup remnants), the pores clog. Still, the oily glands continue to produce sebum, which cannot be released and eliminated from the skin. This causes an infection that we recognize as whiteheads and blackheads.
Stretch marks
These are linear skin formations with pink, reddish (striae rubra) or white (striae alba) color. They are usually seen in areas of the body subjected to great stretching – the abdomen, the chest, the buttocks, the thighs, the armpits. Older stretch marks appear darker, deeper and more clearly distinguishable from the surrounding skin, with a noticeable contour. When the skin is exposed to sunlight, stretch marks become even more noticeable. You can use a stretch mark removal cream for a better effect.
Scars
This is a newly formed connective tissue that replaces the normal skin structure at the site of the injury. It is most common after a skin condition or a skin injury that affects the epidermis and dermis. The type and depth of the injury determine the size of the scar, its dimensions, and its color. At first, the scars are pink or red, but with the time they fade to white. The scar tissue is rich in blood vessels and nerves, so the scars are usually more painful or less sensitive than the rest of the skin. You can apply silicon scar creams as well.
What is the effect of a microdermabrasion treatment?
After a microdermabrasion session (performed at home), you will notice a significant amount of dead skin cells in the filter of your machine.
Reddit u/wholesomecoffee shared what happened after her first session:

This is actually the residue build-up on your face, makeup, and dead skin cells.
Now it's time to investigate the results customers had aftermicrodermabrasion sessions:
Reddit u/magadrac shared this photo after 3 months (he performed two sessions per month)
[Before&After] Microdermabrasion x2 a month for 3 months. from r/SkincareAddiction
Another Reddit u/flowerchild5488 used this treatment method for the reduction of acne scars
Update: Post "Acne Surgery" microdermabrasion, extraction, and salicylic acid treatment. Top pic is the before and bottom pic is 2 days after. from r/popping
Acne.org u/Guest shares a microdermabrasion experience, performed by beauticians and the results are very promising so far:
Quick, Simple -Reduces minor scarring and spots -Slight flakiness and sensitivity to light for a few days after -Not real cheap So far I have only had one treatment, but I will definitely be continuing with microdermabrasion from now on! The treatment was simple; a little rough feeling, but nothing bad. Initially I noticed my skin was smooth and clean. The next day I definitely saw a reduction of the redness and size of my scarring. This is continuing to improve with each day. My only recommendations with Micro are to stay out of the sun for extended periods, and try to avoid skin makeups. Makeup tends to accentuate the flakiness…not attractive 😛
However, there are people who did not see positive results after the tretment.
Here's a quite disturbing review written by u/vandy17 in acne.org


I was told that 6-8 sessions would reduce my acne scars significantly. I have now taken around 7-8 sessions of Microdermabration, although the skin does feel smooth for 3-4 days after the treatment but the smoothness fades away and there is no long term difference in my skin. It is nothing more than a facial, I would say. I am giving it one start not because it is a bad treatment but because it is not effective for treating acne scars.

Another very negative review, again from acne.org reports about a severe breakout after a single microdermabrasion session. Here's what u/MzManda says:
Reduced some wrinkles in my non acne areas Made more of a hassle than a cure My acne had "calmed down" for about 10 months, so I felt it was time to work on my scars. I have seen BEAUTIFUL results in other older women from microdermabrasion so I was convinced this would be my miracle. Unfortunately, after only one treatment (I was scheduled for 3) my face broke out in HUGE cystic acne. It is true that micro digs up all the old bacteria and "purges" your face. But it made new, huge, deep scars- completely doing the opposite of what I wanted. I was too scared to try it again, so I did chemical peels instead. Those help, but still not my miracle. In all, I would never so micro ever again.
Notice that microdermabrasion should be done on skin free of active acne lesions. If there are pustules or open comedones then you risk breaking the skin and spreading bacteria.
Who will benefit from the microdermabrasion procedure?

The procedure is recommended for healthy adults who have relatively minor skin conditions or imperfections. It is good to have realistic expectations about what microdermabrasion can and cannot do because (just like other non-invasive treatment methods) it does not provide a miracle result. What you can expect is a noticeable improvement in your skin condition but let's face it – if you have deep scars, old stretch marks or deep wrinkles, they won't magically disappear.
Since microdermabrasion is a mild, non-invasive procedure, it cannot restore sagging skin or correct deep skin wrinkles, such issues must be addressed with procedures such as facelift, laser skin tightening etc.
Also, keep in mind that such treatment is not recommended for people with very sensitive skin, as it may provoke irritation, redness and acne breakouts. Even though this is a non-invasive, painless procedure, there are customers saying their skin condition worsened after the procedure.
The best at-home microdermabrasion systems you can find here.
Best Seller


Editor's Choice






Title
Microderm GLO by Nuvéderm
Best Seller


Title
Microderm GLO by Nuvéderm
Editor's Choice






Important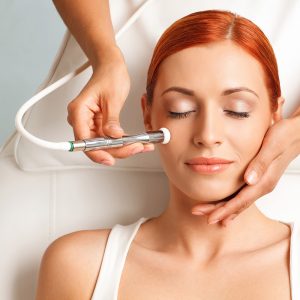 Your skin is unique. It has its'own needs and characteristics and may get irritated if you don't treat it properly. In order to avoid potential skin reactions, such as burning sensation, rash, allergy or increased skin sensitivity, use your beauty device carefully, according to the instructions indicated!
To avoid potential skin reactions, we highly recommend performing a patch test before using your device on a wider area (you can download printable PDF version here)
Last update on 2019-07-13 / Affiliate links / Images from Amazon Product Advertising API
Summary

Article Name
What does the microdermabrasion treat?
Description
We wanted to give you precise information regarding the results you can expect and therefore summarized both the positive and negative customer feedbacks we could find Online.
Author
Publisher Name
Publisher Logo