Scar reducing essential oils are often a preferred option for patients thanks to the rich nourishing ingredients in them. They are easily absorbed by the skin, keep the area well moisturized for a prolonged period of time while stimulating the skin cell renewal.

Which are the best essential oils for scars?
Scar treatment oils, just like scar creams, are good for evening out the skin tone –  massaging the damaged area on a regular basis will eliminate the redness and inflammation and will make the scarring less visible until it completely fades.
We have selected the best essential oils for scars with clinically proven wound-healing effects.
Pur360 Tamanu Oil
Pure Cold Pressed

Sale

Pur360 Tamanu Oil
&nbsp
Naturally derived, 100% pure Tamanu Oil
Promotes skin regeneration
Proven the most effective in the treatment of acne scars
Tamanu oil is a rich, dark green luxurious oil, derived from the nut kernels of Tamanu nut tree. This substance has a proven healing effect on the damaged skin tissue, promoting the regrowth of new, healthier skin cells.
Read More About Pur360 Tamanu Oil
Pur360 Tamanu Oil strong anti-inflammatory properties, which reduces the chances of infections.
Pur360 Tamanu Oil is certified USDA-organic, which means that the product is produced through approved technologies, conserving biodiversity and using approved substances only. [3]
People apply Tamanu oil on all types of scars, saying that the regenerative effect can be easily observed within a short period of time.
Many found this scar ointment effective for the treatment of acne scars. According to the comments available, Pur360 Tamanu Oil helps to lighten and even completely remove acne scarring.
The texture of my skin has changed, my pores seem smaller, and my scars are disappearing.
This pure, undiluted oil is a preferred option of the expensive, chemically developed medical formulas, aiming to reduce or completely eliminate the appearance of scars.
Here's what Reddit u/Vikaroo shares:

However, we found that the medicine applying the product every day is not equally beneficial for everyone. A patient, who applied the Pur360 Tamanu Oil on her burn scar saw no effect of the treatment.
Carrot seed oil

Carrot Seed Oil by Leven Rose Pure Unrefined Cold Pressed Moisturizer for...
&nbsp
Sebum secretion control
Promotes skin healing
Reduces toxins
Reduces the appearance of scars
This oil is an excellent care for skin repair after injuries as well as for scarring. Just like thea scar removal cream, it improves the skin's tone, elasticity, and also removes fine wrinkles. Additionally, carrot seed oil is recommended for eczema, psoriasis, and for regulating sebum secretion.
Title
It is rich in antioxidants that help the skin fight free radicals and improve its ability to regenerate after traumas. Carrot seed oil is often used to improve the skin tone and texture – it will make the existing scars less visible, while will also help recover the damaged skin.
Geranium Oil

US Organic 100% Pure Geranium Essential Oil - USDA Certified Organic, Steam...
&nbsp
Reduces inflammation
Balances hormone levels
Improves the blood circulation
Boost skin regeneration
This is another great anti-scar oil helping the skin to recover from wounds and traumas. Thanks to geranium scar oil, the skin cells are revived, while the secretion of sebum is controlled.
Read More About Geranium Oil
It also has anti-inflammatory, antiseptic, astringent properties. The geranium oil also stimulates the lymphatic system, helps to reduce the retention of excess fluids and eliminates toxins. Significantly reduces the visibility of the scars, and if regularly applied, and helps them recover quickly.
Geranium oil has strong moisturizing and nourishing effects on the skin, both of which are very important during the scar healing process.
Juniper oil

Organic Juniper Berry Essential Oil (15 ml) - 100% Pure Undiluted...
&nbsp
Strong antiseptic
Has a strong healing effect
Protects the skin from bacterial infections
An effective scar oil with anti-irritating properties
Juniper oil acts as a powerful detoxifying agent. It has a soothing effect on various skin diseases such as dermatitis, eczema, and psoriasis. It is highly recommended for scarring as well as for cellulite treatment.
Read More About Juniper Oil
Juniper will eliminate the redness and irritation, associated with scarring, while it will help the damaged area regenerate faster.
Rose Oil

100% Pure USDA Organic Essential Bulgarian Rose Oil (Real Rose Otto) -...
&nbsp
Proven healing properties
A soothing and calming effect
Promotes tissue healing
Rose essential oil is one of the most useful oils for the health and beauty of the skin. It improves its hydration, elasticity, blood circulation, as it has a toning effect on the blood vessels. Regular application of rose oil has a significant effect on the removal of scars and wrinkles.
Read More About Rose Oil
Rose scar removal oil is high in vitamins, minerals, and antioxidants – all of these promote the faster healing process. The moisturizing effect of rose oil is also crucial during the scar treatment process – keeping the affected area well-hydrated will promote skin cell renewal.
Specially formulated oil blends
Scar removal oil blends are combinations of different oils, providing healing effects on the damaged skin. We have chosen the scar treatment oil mixtures with the most positive feedback from patients with scars who successfully managed to erase the imperfections:
Bio-Oil
Sale

Bio-Oil Multiuse Skincare Oil
&nbsp
Best-selling product for scar management
Contains essential oils and botanical extracts
Provides a deep moisturizing effect
Bio-Oil is a combination of various essential oils and botanical extracts. Such include rosemary oil, lavender oil, tea tree oil, chamomile extract, calendula extract and many others (you can see the full ingredients list and their potential effects in our detailed review).
Read More About Bio Oil
Bio-Oil is an innovative formula you may find interesting. What makes it different than other scar medications is the rich, more natural content.
Below, you can read about the experience of Reddit u/bexbexbobex who successfully treated Post Inflammatory Hyperpigmentation (PIH), and Post Inflammatory Erythema (PIE):
The formula uses odorless mineral oil for a deep moisturizing effect and is enriched with vitamin E and vitamin A, proven to have beneficial effects on the skin.
An interesting fact is that most patients use this scar oil for the treatment of stretch marks (these are linear scar formations, caused by distension of the skin).
Many people claim to have experienced a positive effect of the treatment with Bio-Oil – the skin texture visibly improved, while stretch marks and scars started shrinking and lightening.
Most patients left very promising comments, regarding the effect of Bio-Oil. They also liked the scent of the oil.
Another important aspect, which should not be neglected, is the price factor. Bio-Oil has a significantly affordable price, compared to similar formulas.
We at SkinPractice recommend applying Bio Oil every day, twice a day (morning and evening) for a minimum of 3 months.
Unfortunately, we came across several disturbing comments saying that Bio-Oil caused negative skin reactions, this is why we recommend performing a patch test before the initial application:
Don't use it on your face especially if you're acne prone. Bought it to treat acne scars and it ended up breaking me out horribly and just making the situation worse.
---
H-Scars Formula

#1 Scar Removal Alternative - Scar Healer, Keloid Cream, Regenerate Skin...
&nbsp
Effective for all types of scars
Smoothes and moisturizes the area affected
Non-irritating scar removal oil blend
This FDA-approved homeopathic scar removal oil is suitable for all kinds of scars. Keloids, atrophic and contracture scars can be easily treated by applying 2-3 drops directly to the affected areas three times a day.
Read More About H-Scars
H-Scars is an essential oil blend, containing highest quality pure essential oils extracted from plants. Such include Cymbopogon martinii aerial parts, Daucus carota seed, Helichrysum italicum, Lavandula officinalis, Salvia officinalis, and other plant extracts, providing a beneficial effect in the treatment of scars.
There are patients who managed to reduce their scars after applying the oil blend less often:
 Others that are older are a little slower but still the visibility and redness is going away. After a full month of using every night and some mornings, I am very pleased!
We recommend massaging the affected area until the oil blend is completely absorbed by the skin.
Unfortunately, there are multiple patients claiming that the anti-scar oil blend did not improve the condition of the damaged skin. Most of these comments are written by people using the formula for 3-4 weeks, which is a very short amount of time, having that some scars may require months to heal.
A lady who tried to eliminate a large keloid scar on the chest with injections and steroid cream with no success decided to try H-Scars formula, due to the natural non-irritating ingredients it contains:
I just want to say since day one I haven't had any burning or itching,my keloid has flattened out and it looks like its getting smaller
Last update on 2019-08-02 / Affiliate links / Images from Amazon Product Advertising API
Summary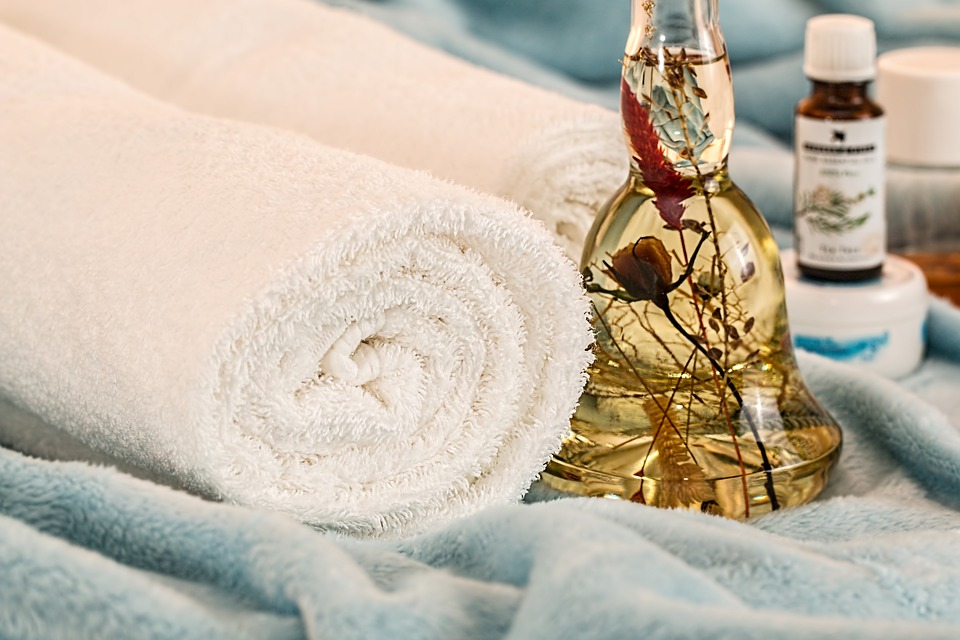 Article Name
The best oils to apply on a scar
Description
Using natural scar removal oils has shown promising results in the treatment of keloid, contracture, hypertrophic, and acne scars. See the most potent oils and oil blends for the management of scar tissue you can find on the market!
Author
Publisher Name
Publisher Logo