Topical scar creams are one of the most preferred non-invasive scar treatment options. They are budget-friendly and provide visible improvements even for old scars, keloids, and stretch marks. Based on clinical trials, patient reviews, and medical research, we have listed the best scar creams in this article.


How to choose the best cream?
Treating a scar can be as easy as going to the local cosmetic shop if you know what to look for. The main features to look for when choosing the best scar creams:
what is the type of your scar
what are your individual skin characteristics
what do other patients say about the product
are the ingredients in it scientifically proven to promote healing
We collected all this information to make your scar removal journey easier and rebuild your confidence and comfort!
Which is the best scar cream?
Editor's Choice


Best Seller








Key Ingredients
Polysiloxanes, Silicon Dioxide
Silicone Gel, Anti-Oxidants, Vit. E
Dimethicone 2.0%, Onion Extract
Allantoin 0.5%, Onion Extract
Editor's Choice


Best Seller


Key Ingredients
Polysiloxanes, Silicon Dioxide


Key Ingredients
Silicone Gel, Anti-Oxidants, Vit. E


Key Ingredients
Dimethicone 2.0%, Onion Extract


Key Ingredients
Allantoin 0.5%, Onion Extract
NewGel+E Scar gel cream

NewGel+ Advanced Silicone Gel
&nbsp
Works on all types of scars
Helps reduce skin discoloration
Safe for people with sensitive skin and wound or scar on face.
Results can be observed after a short period of application
Best for burn scars
NewGel+E is one of the best gels for scars that you can find on the market. The great reputation of this product is due to the clinically proven ingredients it contains and the impressive results most users reported. It traps the moisture to keep skin cells hyrated and pomotes collagen synthesis.
Something that distinguishes this scar gel is the fact that it is suitable for the treatment of multiple scar formations or injuries, varying in type, size, and shape. New gel is one of the best products used after open-heart surgery.
Both newly formed and older scars can be successfully treated in a fairly short period of time.
Silicone scar management is currently the most popular among beauticians and specialists
NewGel Plus is clinically proven to work on scars (visible improvement in users of different age groups is observed) and is doctor recommended
Best on newly formed and older scars
3 months are enough to completely erase or significantly improve the scarring
 People say NewGel is absorbed quickly, without leaving a greasy residue
Mederma PM Overnight Cream

Mederma PM Intensive Overnight Scar Removal Cream
&nbsp
Promotes faster healing
Provides sun protection
Suitable for all types of scarring and treatments
Promotes skin cell regrowth
The night time is when our body goes into repair mode. The same goes for the skin. There are many people who prefer using scar removal creams during the night, as such formulas are usually more potent and they have a thicker consistency so they can work faster. Mederma PM offers a strong regenerating effect on scars and deep skin hydration while you are sleeping.

Mederma PM scar cream offers the perfect option for scar recovery, while you are sleeping. Thick, potent and packed with deep healing ingredients, aiming to restore the normal appearance of the damaged tissue.
Dimethicone [2]2% is the active ingredient. It is proven to promote skin healing by creating a protective barrier and improve the hydration in the area of application.
XScar Cream

Scarless MD Also Known as Xscar | Advanced Silicone Scar Removal Treatment...
&nbsp
Dermatologist developed
Proven effective in the reduction of scars
Best for serious scars, C-sections, cuts, wounds and burns
Which would you choose – a cream that is professionally developed or a clinically proven one? Because with XScar you can have both.
XScar is among the best creams that can be purchased without a prescription by a licensed skin practitioner. Unfortunately, the price aspect is a bit disturbing, according to some reviewers. However, the formula is relatively expensive, because it contains high-quality ingredients, while it will be enough for a prolonged period of time. There are better scars solutions that can be bought at this price point.

BioCorneum Advanced Supervision

bioCorneum plus SPF 30
&nbsp
Proven patented technology
Provides sun protection
Reduces redness and discoloration
Relieves associated itching and discomfort
Best for acne scars
BioCorneum uses patented technology with professional-grade silicone plus sun protection factor in order to provide optimal efficacy for scar management, while reduces the damage on the areas, which are usually exposed to the sun. It can also help prevent skin cancer thanks to the SPF added.
FDA-cleared topical silicone fix with clinically proven effect
It has sunscreen that protects the damaged skin from the harmful sun rays
Reduces the discoloration, associated with scars
Often used for post-procedure scars
Kelo-cote® Scar Recovery Gel

Kelo-cote
&nbsp
100% professional silicone
Clinically tested and proven efficient on scars
Suitable for fixing injury, burns, acne amd post-procedure scars
Specialists and beauticians recommended
Best for all scar types
helps with face scar disoloration and hyperpigmentation.
Kelo-Cote Gel is suitable for the reduction of hypertrophic and keloid scars and can be easily applied to all body parts. This tried and trusted formula helped lots of people regain their self-confidence in as little as 2-3 months. It is also suitable if you have a face scars.

Mederma Advanced
Sale

Mederma Advanced
&nbsp
Affordable
Promotes the skin cell renewal
Improves the appearance, texture, and color of existing scars
If you are trying to find something unpretentious, yet effective, Mederma Advanced Cream is the most suitable products for you at this price point. The active ingredient in the formula is Allantoin [1], which is proven to improve the appearance of scars and fasten the process of skin regeneration.

Pro-Sil®

Pro-Sil Patented Silicone fix Stick
&nbsp
One of the best silicone-based scar removal methods
Suitable for newly formed and older scars
Consumers report impressively satisfying results
Best for stretch marks
We present to you Pro-Sil, a silicone-based formula for the removal of scars. Pro-Sil is easy to apply and 100% transparent, offering visible improvements of the scar tissue in less than 2 months.


Puriderma scar cream

Puriderma
&nbsp
Recommended by hundreds of users
Works great on all types of scars – both older and newly formed ones
Improves and evens out skin texture
Best for acne scars
Puriderma scar removal cream is our newest inspiration – the herbal formula has more than 1000 reviews, almost all of which positive. The combination of herbal plants, antioxidants and extracts provided an impressive effect for most consumers, while the price of the product is quite acceptable!
ScarAway 100% Silicone Gel Sheets
Sale

ScarAway Professional Scar Sheets
&nbsp
 Proven silicone scar management
Aim to minimize and flatten scar formations
Use a clinically evaluated silicon technology
Reduces irritation
ScarAway Silicone Scar Sheets are advanced functional products, specially developed to shrink, flatten and fade hypertrophic and keloid scar formations. The method is clinically tested and proven beneficial for the visible reduction of scars.

Do scar creams really work?
Following the postoperative instructions and recommendations given by the surgeon are the also important prerequisite for the rapid healing and recovery of the skin after operative intervention.
The next step is the application of an anti-scar cream. Doing so is a must in case you would like to reduce the chances of scar tissue or after surgery scars.
Last update on 2020-11-08 / Affiliate links / Images from Amazon Product Advertising API
Summary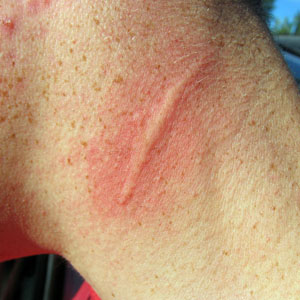 Article Name
The Best Scar Creams of 2020 [Clinically Tested]
Description
Best scar creams, recommended by users and licensed skin practitioners with a proven beneficial effect in skin healing.
Author
Publisher Name
Publisher Logo