Neutrogena Microdermabrasion System plus Free Puff Refills, 36 Count
&nbsp
Contains 12 puff refills and 24 free puff refills (total of 36 puff refills)
Have smoother, more luminous skin instantly
Have visible improvement in the look of fine lines after 1 week
This treatment method is designed for those of you who would like to improve their skin texture, fight fine lines and wrinkles, and reduce the visibility of age spots and other skin imperfections.
The device comes with 12 puff refills and 24 free puff refills (total of 36 puff refills) and the procedure is quite similar to the one aestheticians perform in professional beauty salons but with Neutrogena Microdermabrasion System you can do the treatment yourself.
According to the product presentation, the results of such treatment are immediate and you can see visible improvement in your skin condition right after performing the procedures needed.
What are the pros and cons of Neutrogena Microdermabrasion System?
Pros
This treatment is clinically proven to have a similar effect as a microdermabrasion treatment, performed by a professional dermatologist
The device provides deep skin exfoliation
Unclogs and clears pores
According to the manufacturer, a significant reduction of fine lines and age spots can be observed after 4 weeks
The microdermabrasion procedure is considered relatively painless
There are minimal risks (if the procedure is performed properly)
Not needing any time off for recovery
The effect 'smoother, more radiant skin' can be instantly observed
According to multiple comments, the price of this microdermabrasion system is significantly cheaper, compared to similar home use microdermabrasion machines
Cons
People with very sensitive skin type are likely to experience irritation, this is why such treatment is not recommended for them
You will have to purchase additional pads (the device works with single-use pads only)
Device characteristics
Used For: facial and body exfoliation, in-depth cleansing
Usage: Face, neck, shoulders
Material: Plastic
Power Source: Battery-powered
Warranty Description: No applicable warranty
Battery: required, included: alkaline AA
Product Warning: no warning applicable
This device is designed to boost circulation and oxygen flow while increasing cell turn-over. The system uses pads with a Velcro back. Not brushes. But anything that has a Velcro back will stick.
The Neutrogena Microdermabrasion system works by vibrating (with the pad moistened), and you own hand movement around your face, neck or shoulders. The gentle vibrations help exfoliate and cleanse your face.
This affordable at-home system uses disposable puffs (designed with ultra-fine crystals and mild purifiers for gentle and pleasant exfoliation) and the microdermabrasion applicator.
Neutrogena Microdermabrasion System's Effect
This device provides firmer, younger-looking skin if used regularly (according to the manufacturer). Visible results can be observed even after the first time you use it – this is confirmed by multiple customers who shared their experience.
There's also a study that we found Online, according to which, the effect of the treatment with Neutrogena Microdermabrasion System is indeed promising. Here are the numbers:
91% had smoother, more luminous skin instantly
88% had visible improvement in the look of fine lines after 1 week
88% had significantly reduced the appearance of wrinkles or age spots after 4 weeks
72% had substantially firmer-looking skin after 8 weeks
However, we couldn't find an actual clinical evaluation proving these effects, so we cannot consider this information reliable. You will be the one to judge.
You should also consider the fact that this device is battery-powered. When it comes to microdermabrasion, the power source factor is significant, as batteries offer a unique portability potential (and, yes, you won't need to seek out an electrical outlet) but, unfortunately, do not have the capacity of electrically powered microdermabrasion machines.
This is why there is no suction/vacuum feature in this Neutrogena Microdermabrasion System – batteries cannot provide sufficient power for it.
Does Neutrogena Microdermabrasion System really work?
The product performance is not very impressive, this is why we highly recommend checking every aspect of this product before buying it.
Most of the people who purchased it ranked it five stars (more than 60%) but there are multiple customer reviews we consider disturbing. So, here are the negative comments that we believe you should take into account before making this purchase:
Here's a customer who is concerned about the Neutrogena's claim "clinically proven" (as discussed earlier in this article). Also, he did not see any effect of the treatment with this microdermabrasion device:
Not only do I not see improvement with sun spots for myself, I don't believe Neutrogena's claims. They use the phrase "clinically proven" but I failed to find any links to publications from Neutrogena's product website.
Another customer believes that this product is more of a cleanser:
I think this is more a cleaning system than a micro derma system. It makes your face feel clean but doesn't get deep enough to make a significant difference in the surface texture or spots.
Here's a customer who experienced pain during the treatment qith this device:
 I used it a few times and I had red blotches all around my face and neck after using this device.
Good news is that negative reviews represent only a small part of the total reviews available. Now, let's see what positive comments say regarding the effect of this microdermabrasion system:
Here's the comment left by someone who really enjoys the procedure, while considers the price of the device very acceptable:
My favorite affordable form of microdermabrasion! Bought one to give away because I love the way it leaves my skin. I use it twice a week on varied areas and I love the results I get and without the irritation. I just turned 50 and my skin looks great!
Another satisfied customer shares:
I was not too sure about microdermabrasion but this little thing changed my mind. It did not hurt my face but gave it a good stimulating scrub. My face is so much smoother after one use and now after a month, it's brighter and feels so much more radiant. I definitely recommend this product.
Someone who recently received the product from an Online retailer store saw an improvement in the skin condition right after the initial use of the device:
After the first use, I noticed quite a difference in the appearance and feel of my skin. My skin felt so much softer and cleaner! Like another reviewer noted, it was like 40 lbs of make-up had been taken off, haha. Also, I noticed that the pores on and around my nose were visibly smaller (yay!).
And here's the opinion of Reddit u/Too_many_pets who started using the product recently:
Does anyone use the Neutrogena microdermabrasion system? from r/SkincareAddiction
In-depth analysis of the reviews available
In order to provide the most accurate information, we have analyzed the credibility of all the reviews available for this product via Fakespot, an analyzer of fake Amazon reviews. We wanted to find out what real users are saying about it.
The technology we used analyses millions of reviews, checking for suspicious patterns and incentivized reviews.
Below's the result of Neutrogena Microdermabrasion System:

How much does Neutrogena Microdermabrasion System cost?
Compared to similar microdermabrasion system, this one is quite affordable and it has bonus free puff refills.
You can purchase it from your local store or an Online retailer and the price will vary (as expected) depending on where you buy it, but it shouldn't exceed $40.

Neutrogena Microdermabrasion System plus Free Puff Refills, 36 Count
&nbsp
Contains 12 puff refills and 24 free puff refills (total of 36 puff refills)
Have smoother, more luminous skin instantly
Have visible improvement in the look of fine lines after 1 week
Important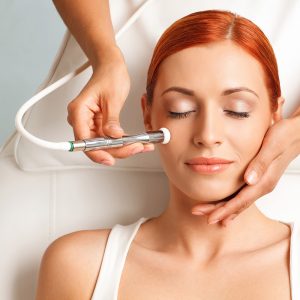 Yout skin is unique.It has its'own needs and characteristics and may get irritated if you don't treat it properly. In order to avoid potential skin reactions, such as burning sensation, rash, allergy or increased skin sensitivity, use your beauty device carefully, according to the instructions indicated!
To avoid potential skin reactions, we highly recommend performing a patch test before using your device on a wider area (you can download printable PDF version here)
Last update on 2018-12-18 / Affiliate links / Images from Amazon Product Advertising API
Summary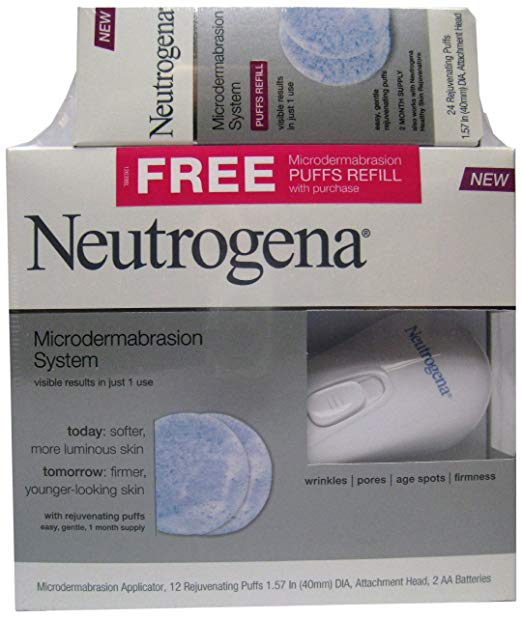 Article Name
Neutrogena Microdermabrasion System
Description
This device is designed to boost circulation and oxygen flow while increasing cell turn-over. The system uses pads with a Velcro back. Not brushes. But anything that has a Velcro back will stick.
Author
Publisher Name
Publisher Logo