What are stretch marks?
Stretch marks (Striae) are skin abnormalities that can appear in both men and women.  They have very specific visual appearance no matter what the cause of such problem is. Stretch marks are white, silver, pink to purple lines longitudinally arranged over the abdomen, lateral upper thighs, inner arms, or upper breasts.
They are formed by excessive stretching and rupture of elastic fibers especially due to pregnancy or obesity. Striae can also occur when people grow very rapidly or lose/gain weight. It is more likely to receive more and more stretch marks as you age.
At the beginning of stretch marks' formation, their regular skin areas appear pinkish or even reddish and, as time passes by, they become white, resembling old scars.
According to myvmc.com (VirtualMedicalCentre) "Depending on the race and age of the population studied, the prevalence of stretch marks has been reported to range from 50% to 90%."
It's considered that striae may appear because of genetic predisposition – that can be the reason why some women, for example, are not affected by this skin problem, while others are.
After stretch marks first appear on the skin, regardless the causes, they start following the natural course of progression. Sometimes, over time they may diminish, but you cannot expect them to disappear completely. The reason why these lesions appear on the skin is
The reason why these lesions appear on the skin is that collagen and elastin are not produced quickly enough to accommodate the expansion of other cutaneous layers, rendering the normally elastic dermis less flexible and manifesting in visible epidermal marks.
Causes
There are various reasons why stretch marks appear on the body. The most common one affects women only:
Almost 90% of women get a pregnancy bonus – stretch marks! During periods of pregnancy, striae appear after the 6th or 7th month because of the baby growth. They affect mostly the skin of the abdomen and sometimes the skin covering the thighs and breasts. The abdomen will undergo a tremendous amount of stretching during pregnancy so that the fetus can have room to develop and grow.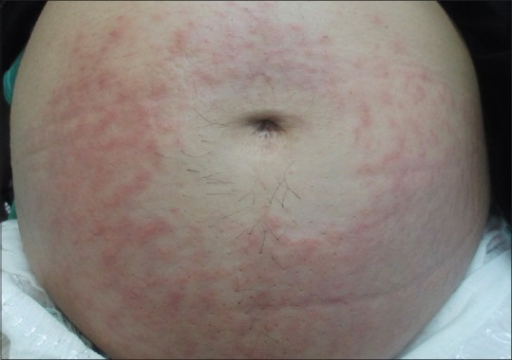 Of course, their appearance depends on the skin type and its' elasticity. But, usually, a woman preparing herself to get pregnant should be aware that she will most likely have stretch marks during this period.
Very rapid weight gain/loss
Another very common reason for this skin condition is very rapid weight gain. When one puts on a lot of weight over a short period of time, the skin reaction is to stretch, because of the fat gained. These skin lesions can also occur when losing weight very quickly. When losing weight skin becomes loose and it makes stretch marks to arise.
This problem also concerns bodybuilders and athletes – stretch marks appear when muscle mass is dramatically increased over short periods of time.
Sometimes, very fast growth during puberty may also cause stretching of the skin. Growth cycles during puberty cause stretch mark more commonly in males. They often develop stretch marks on their shoulders and backs.
Females usually develop their skin lesions on the hips, thighs, breasts, upper arms and buttocks.
– Cushing's Syndrome
Very typical symptoms, related to this medical condition are stretch marks. They develop because the condition involves the overproduction of cortisol, which causes very rapid weight gain, mostly in the abdomen.
Skin changes to watch for include stretch marks on the arms, thighs, abdomen, and breasts, along with acne and skin that bruises easily.
Because skin becomes more fragile, thin and more susceptible to bruises, it can easily lead to stretch marks development.
– Marfan syndrome
People who have Marfan syndrome are very prone to stretch marks development. They usually appear on the lower back, buttocks, shoulders, breasts, thighs, and abdomen.
In that case, stretches on the skin are not related to weight gain or loss. This a genetic condition that causes weakness and decreased elasticity in body tissues.
-Ehler-Danlos Syndrome
This is a  heritable connective tissue disorder. It's common physical characteristic is stretch marks' development. Affected individuals tend to bruise easily, and some types of the condition also cause abnormal scarring.
-Topical corticosteroids
Many people, treating chronic eczema, psoriasis or other medical conditions are very prone to developing stretch marks. They usually appear in limited areas of the body (on the upper, inner thighs, under the arms, and in the creases of your elbows and knees), and are very rarely permanent. They come as a side effect of the treatment  – decreased collagen levels (collagen is essential for skin elasticity and skin thinning).
-Glucocorticoid drugs
Such as Cortisone, Hydrocortisone, Prednisolone, Methylprednisolone, Triamcinolone, comparingtoBetamethasone.
The prolonged usage of each of these drugs may cause severe stretch marks on the skin. That's the most common unwanted reaction of the medical treatment. The medications listed above may also cause bleeding and hirsutism.
Home treatment
The number of people affected by stretch marks is really impressive, therefore most of them are seeking for effective solutions. There are various options for treatment from different fields such as pharmaceuticals, herbs and home remedies and clinical treatments.
The following list represents some of the more successful proven  remedies for stretch marks, which you can prepare at your home:
Egg whites
It is considered that egg whites help skin to recover very quickly. Apply egg whites on affected areas at least 2 times a day (for at least2-3 months) and you will notice that your stretch marks diminish their sizes and they may also lighten a bit.
Lemon Juice
The natural acids containing in the lemon juice can make stretch marks to fade. Rub with lemon juice on the affected areas and wait about 10 minutes before removing it from your skin.
Shea or cocoa butter
Massaging the skin with shea or cocoa butter two times a day will help your damaged areas become more hydrated.
According to various researches made, stretch marks will not fade completely, but will visibly diminish their sizes. The application of shea or coconut butter during periods of pregnancy may prevent forming of stretch marks.
Olive Oil
Applying olive oil on affected areas may prevent further striae formations. It locks the moisture in the skin cells and is rich in vitamin E, which improves skin elasticity and collagen production. Olive oil has antioxidant activity and the essential nutrients in it recover the damaged cells.
Coffee grounds
Caffeine has smoothing and circulation-stimulating effect, which improves skin elasticity and only after a few weeks visible stretch marks begin to fade. Mix coffee grounds and hot water and rub into the skin about 5 minutes. Then wrap the area with a cloth for about 30 minutes.
Castor oil
It has extremely rejuvenating properties and is used to remove any skin imperfections. Massage the affected areas about 15 minutes every day, then wrap with a thin cloth for 30 minutes. Repeat this process daily for about a month and you will see the improvement yourself.
Potato juice
Vitamins and minerals containing in the potatoes stimulate the development and reconstruction of skin cells. Shred a potato into thick slices and rub them onto the stretch marks, so that the juice covers them. Leave a few minutes and repeat this procedure every day for at least 2 months.
Carrots
Beta-carotene containing in carrots is a great protective and regenerating agent for the skin. Boil some carrots until they are soft enough to blend. Spread the mashed carrots on the affected areas and leave it on the skin as long as possible.  Then, rinse it with lukewarm water. Follow the process for one month and see the promising results.
Vitamins and minerals
Vitamin A:
Crucial for skin growth.Maintains healthy bones, nails, and hair. Helps by restoring the damaged tissue and improves dry, scaly skin. Experiments have shown that the application of vitamin A locally maintains epidermis saturated with vitamins. Vitamin A also stimulates the process of renewal of the epidermal cells. The content of collagen in the skin is increased and skin elasticity is improved as well.
Foods rich in vitamin A: sweet potato, carrot, cabbage, lettuce, apricots, melon, sweet red peppers, tuna, mango.
Vitamin C:
One of the most important roles of vitamin C is that it promotes the faster healing of wounds and scars. It is necessary for the synthesis of collagen and acts as a restorative material between skin cells. Collagen mission is to provide a barrier against infections and diseases, and to promote wound healing.
Foods rich in vitamin C: yellow peppers, dark green leafy vegetables, kiwi, broccoli, strawberries, oranges, tomatoes, peas, papaya, guava.
Vitamin E:
Another viral vitamin in the fight against stretch marks. It is necessary for maintaining normal metabolism. Protects and strengthens the body tissues and skin. Vitamin E is a powerful antioxidant. Also used to help the healing process after surgery.
Foods rich in vitamin E: spinach, almonds, sunflower seeds, avocado, shrimp, olive oil, broccoli, kiwi.
Zinc:
It promotes the production of collagen. Collagen has the ability to hold skin tissues of the body together. It is the most abundant structural protein and constitutes 80% of all connective tissue.
Foods rich in zinc: oysters, beef, and lamb, chicken and pork, wheat germs, spinach, cashews, pumpkin seeds, chickpeas.
Daily hydration:
One of the main causes of stretch marks is skin dryness caused by general dehydration. Drinking enough water can improve the elasticity and have a beneficial effect. The sufficient water intake depends not only on your body but on the various external factors (Check the video below) but the minimum amount of water is usually around 1.5-3 liters a day.
Treatment
There are a lot of different products on the market claiming to prevent and even entirely remove stretch marks. We have reviewed some of the best stretch mark removal creams here.
The truth is that most of the medical websites affirm that prevention is not possible. Each skin type is different and it depends on skin' elasticity whether or not one will get stretch marks. The general advice for preventing stretch marks is to always keep skin moisturized enough.
About these stretch marks that already appeared on the skin, there are various creams and lotions that you can buy. But after thorough research and checking consumers' reviews, it turned out that only a couple of them have a positive effect on the skin such as visible shrinking of the stretch marks or their complete disappearance.
As expected, most of the comments on the Internet are written by pregnant women or post pregnancy but there are also reviews from people who have gained/lost a lot of weight or those of us who have suffered from this problem for years and just decided that it is time for a change.
Whatever treatment you decide to follow, you should be aware that products like these are tricky because individual results and experiences can vary. What works great for some may not work the same way for others due to things like skin type, genetics, usage etc. On average, it takes up to 6-8 weeks and sometimes more use of anti-stretch mark products before noticeable changes occur.
Check carefully the ingredients before using any anti-stretch marks product in order to avoid unwanted effects such as skin redness, rashes, eczema or other.
You can see the best-selling products for stretch marks treatment available Online (in-depth reviews, pros and cons, full ingredients list and customer comments) here!
Editor's Choice








Best Seller


Deux Derme - Stretch Mark Intensive Cream With Vitamin E, Shea, Cocoa...
TriLASTIN Maternity Stretch Mark Prevention Cream, Unscented, 4 fl oz. -...
Mederma Stretch Marks Therapy - Hydrates to Help Prevent Stretch Marks -...
StriVectin SD Advanced Intensive Concentrate for Wrinkles and Stretch...
Bio-Oil 200ml: Multiuse Skincare Oil (6.7oz)
Key Ingredients: Vitamin E, Shea, Cocoa Butter, Antioxidants, Vitamins
Key Ingredients: Aloe Vera Gel, Green Bean Extract, Emu Oil, Sesame Seed Oil
Key Ingredients: Organic Aloe, Plant Stem Cells, Seaweed Extract
Key Ingredients: Cepalin, Proprietary Botanical Extract, Hyaluronic Acid, Centella Asiatica Plant Extract
Key Ingredients: Collagex-CE, Patented Form of Niacin / Vitamin B3
Editor's Choice


Deux Derme - Stretch Mark Intensive Cream With Vitamin E, Shea, Cocoa...
Key Ingredients: Vitamin E, Shea, Cocoa Butter, Antioxidants, Vitamins


TriLASTIN Maternity Stretch Mark Prevention Cream, Unscented, 4 fl oz. -...
Key Ingredients: Aloe Vera Gel, Green Bean Extract, Emu Oil, Sesame Seed Oil


Mederma Stretch Marks Therapy - Hydrates to Help Prevent Stretch Marks -...
Key Ingredients: Organic Aloe, Plant Stem Cells, Seaweed Extract


StriVectin SD Advanced Intensive Concentrate for Wrinkles and Stretch...
Key Ingredients: Cepalin, Proprietary Botanical Extract, Hyaluronic Acid, Centella Asiatica Plant Extract
Best Seller


Bio-Oil 200ml: Multiuse Skincare Oil (6.7oz)
Key Ingredients: Collagex-CE, Patented Form of Niacin / Vitamin B3
Last update on 2018-12-18 / Affiliate links / Images from Amazon Product Advertising API