Ozone & Aromatherapy


Portable Mini Facial Steamer (Ozone & Aromatherapy) by Silver Fox
&nbsp
portable mini hot facial steamer w. extended arm attachment
provides abundant steam
independent steam/ozone switches
This smaller version of the professional salon steamers may be a very suitable option for those, who are trying to obtain results, similar to those in beauty studios.
It provides both aromatherapy and steam option and the device can be easily carried wherever you'd like. The compact design makes it a preferable option, as it doesn't require much space, while you'll be able to get all the benefits from a steaming procedure.
Portable Mini Steamer comes with optional ozone function and aromatherapy insert, which will guarantee you deep pore cleansing and moisturizing effect, plus the additional benefits your favorite herbs and essential oils provide.
The unit weighs about 4 pounds (2kgs).
What are the pros and cons of Portable Steamer by Silver Fox
Pros
This product helps to stimulate blood circulation, while relaxes the skin and tissue
The device is easily portable
Has independent steam/ozone switches
The steam is large enough to cover the facial area
A smaller version of salon steamer
The device is with a swivel steam arm and a rotating directional steam nozzle, which makes it very easy to use
It automatically shuts down if it is tipped over or set on a soft/unstable surface
Multiple aestheticians use this exact product on their patients
Additional parts (such as water jars) may be purchased separately by contacting the manufacturer
Cons
This item does not come with a product manual
There are many reviews, reporting about broken products received
You cannot use this device for more than 20-25 minutes
The price of this device seems higher, compared to similar face steamers
Is Portable Steamer by Silver Fox good?
We at SkinPractice cannot define this steamer an excellent option, due to the simple fact that half of those who tried it are not satisfied with this purchase. This is a product with an indeed promising description but since there are so many people reporting about defective devices and product disadvantages.
The product rating is, respectively, low (<50% of all people are happy with their purchase) and this can be considered disturbing.
Still, there are people who did receive exactly what they expected: some of them like the effect of the steamer, others like the steamer' convenience.
Device characteristics
Used For: in-depth cleansing, skin hydration
Usage: Face
Material: Plastic
Power Source: Electric
Voltage: not indicated
Warranty Description: n/a
Product Warning: no warning applicable
Additional information:
The package includes an 

extended arm attachment, so you can use it more comfortably

The steam has an automatic shut down option in case the water in the tank has evaporated
Keep in mind that all the parts are plastic (you may even smell the plastic during the first treatment session)

Portable Mini Steamer effect
The steam facial is the best way to provide a deep cleansing of the pores. Of course, the steam must not provoke a burning sensation, but at the same time, it should come directly to your face.
This procedure will open up all the pores, kill bacteria and microbes on the face (as you know, most harmful microbes do not tolerate high temperature) and will cause the pores to open up to the maximum by ejecting all the excess oil along with the dirt, accumulated in the pores.
Perform the procedure for a few minutes, then wash your face with cold water and wipe it carefully with a soft cloth. This procedure can be repeated very often, as it won't cause you any harm. It is completely safe (even for people with sensitive skin) and requires only a few minutes, while the effect is long-lasting.
Immediately after you have done this deep cleansing you can observe the visible effect of such treatment – your facial skin will be well moisturized, clean and refreshed.
Does Portable Mini Steamer really work?
We are not very impressed by the Online performance of this device, as there are lots of people, who decided to return the device and get their money back. They weren't pleased with their results, nor with the device itself.
Someone who was very happy with this machine at the beginning is now absolutely demotivated and does not even use it anymore:
It started off strong blowing constant heat but now the steamer won't fire up it won't blow steam.
I've used it 3 times and have stored it in the box. it doesn't blow at all!!
Here's another very demotivating comment (it is actually a warning):
Just could be designed better. The heating coils are close to the walls of the plastic water container. Need to be careful if you have to remove to add more water and the coils are still hot. Not so easy to twist back into place. If setting the container in wrong angle the walls will touch the heat coil. If the coil is still hot, it will melt the container wall (no leak) which happened to us.
A professional aesthetician, who also decided to give it a try, says:
 First time steamer only lasted for less than 10 min, the plastic compartment got very hot and it just stopped working, even though the power button was still on.
The good news is that there are people, who did find the product effective, and are really impressed by their results:
This is a very nice item just like the ones we have seen used at the local spas in town.
Here's another satisfied lady, who even plans on getting the same device for her children, shares:
This steamer is better than I expected. What a pleasant surprise. It is easy to use and provides a steady amount of comfortably heated steam. I thought I might be bored sitting in the steam for a few minutes. It turned out to be a very relaxing experience and the time flew.
In-depth analysis of the reviews available
In order to provide the most accurate information, we have analyzed the credibility of all the reviews available for this product via Fakespot, an analyzer of fake Amazon reviews. We wanted to find out what real users are saying about it.
The technology we used analyses millions of reviews, checking for suspicious patterns and incentivized reviews.
Below's the result of Portable Mini Facial Steamer by Silver Fox:

How much does Portable Mini Facial Steamer cost?
This steamer is more expensive, compared to similar devices. This is due to the fact that it is a smaller version of salon steamers, providing the same results. The product is available Online for about $80.

Portable Mini Facial Steamer (Ozone & Aromatherapy) by Silver Fox
&nbsp
portable mini hot facial steamer w. extended arm attachment
provides abundant steam
independent steam/ozone switches
Important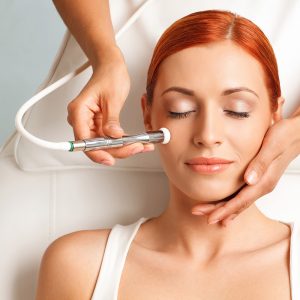 Yout skin is unique.It has its'own needs and characteristics and may get irritated if you don't treat it properly. In order to avoid potential skin reactions, such as burning sensation, rash, allergy or increased skin sensitivity, use your beauty device carefully, according to the instructions indicated!
To avoid potential skin reactions, we highly recommend performing a patch test before using your device on a wider area (you can download printable PDF version here)
Last update on 2018-12-18 / Affiliate links / Images from Amazon Product Advertising API
Summary

Article Name
Portable Mini Facial Steamer
Description
Portable Mini Steamer comes with optional ozone function and aromatherapy insert, which will guarantee you deep pore cleansing and moisturizing effect, plus the additional benefits your favorite herbs and essential oils provide.
Author
Publisher Name
Publisher Logo