As you may already know, the benefits of face steaming are numerous – your pores will unclog, the accumulated dirt will be easily removed, the skin surface will be moisturized and regenerated etc. Some time ago, such procedures could only be performed in beauty salons, by professional aestheticians.
Now, you can easily take care of your beautiful self at home – without spending lots of money and precious time.
At-home facial steamers provide the same effect as the devices, used in beauty salons – some of the machines (below) have both cold and hot steaming options, you can add essential oils or herbs and use the devices as long as you like, wherever you like. If you are not sure how exactly to perform at-home facial steaming, follow this link – it will guide you through the entire process.
We have chosen the following gadgets, due to their high ratings, positive reputation among customers and useful features, that will help you get the best of a steaming procedure.
OKACHI GLIYA NanoSteamer
Sale

OKACHI uses advanced nanotechnology, providing consistent steam. It penetrated deeply into the skin cells, leaving them refreshed and well hydrated. The steam released is disinfected by a UV light, which does not allow bacteria to grow and cause infections. Customers, who bought this steamer say that the procedure is the same as in beauty salons and the results can be immediately observed.
The main positive aspect of this machine is that it promotes blood circulation and collagen regeneration – this way the skin looks youthful and regenerated.
OKACHI steamer has a microcomputer touch panel, which makes it easy and comfortable to use. This is a portable professional device with a classy design.
Read our OKACHI GLIYA NanoSteamer detailed review here.
Lavany Facial Steamer
Sale

This Lavany steaming device is considered a very effective option (according to customers) if you would like to successfully treat skin conditions, such as acne, saggy skin and open pores on the face. It provides both cold and hot steaming options, depending on the effect you would like to obtain:
The hot steam feature is recommended for deep skin hydration and cleansing
The cold steam feature offers the option to shrink your pores in order to minimize the chances of infections
Another extremely positive feature about Lavany Facial Steamer is that you can add your favorite essential oils, herbs and dried fruits or flowers to your therapy. This way, you can get even more benefits from the procedure.
Most of those, who reviewed the machine are satisfied with the results they got. People claim to notice visible effects from the steaming sessions even after the first 2-3 procedures.
Read our Lavany Facial Steamer detailed review here.
Portable Mini Facial Steamer by SilverFox

We decided to show you the characteristics of this steaming device, as the number of people, who are interested in purchasing it is really impressive. This product has an indeed promising description, it is a smaller version of salon steamers – a very convenient one. The steam can cover the entire facial area. According to the manufacturer, the device is really easy to use – it comes with a swivel steam arm and a rotating directional steam nozzle.
However, half of those who actually bought it, are not satisfied with it.
There are also very disturbing comments about defective devices or even broken ones.
Read our Portable Mini Facial Steamer by SilverFox detailed review here.
The Original 3-in-1 Steamer By Krasr ®
No products found.
This is one of the most purchased at-home facial steamers available on the Internet. It has a precise description as well as an impressively positive reputation among customers. After turning on the device, it is ready to be used in less than 30 seconds, unlike similar products, which require at least 5-10 minutes.
The KRASR ® steamer is user-friendly, its price is very acceptable (compared to similar devices) and customers claim to have successfully reduces acne and other blemishes. The device is very suitable for the treatment of dry skin.
This steamer comes with a 5-piece surgical grade stainless steel blackhead and blemishes extractor kit for free – customers are extremely happy with the tools. They can be used immediately after the steaming procedure.
Read our Original 3-in-1 Steamer by KRASR ® detailed review here.
Important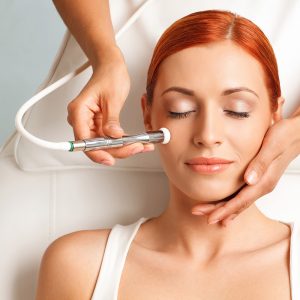 Yout skin is unique.It has its'own needs and characteristics and may get irritated if you don't treat it properly. In order to avoid potential skin reactions, such as burning sensation, rash, allergy or increased skin sensitivity, use your beauty device carefully, according to the instructions indicated!
To avoid potential skin reactions, we highly recommend performing a patch test before using your device on a wider area (you can download printable PDF version here)
Last update on 2018-05-16 / Affiliate links / Images from Amazon Product Advertising API